Lissy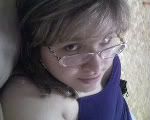 Gravatar:
[
Change Avatar
]
Penname:
Lissy
Real Name:
Lisa
Gender:
female
Member since:
Jul 07, 2010
Last login:
Nov 28, 2011
Skin:
Violet
Beta-Reader:
No
Graphic Designer:
Trailer Maker:
Favourite Dramas:
Autumn
Biography:
Name: Lisa
Birthday: October 4
Birthplace: New York City, New York
Current Location: Lenexa, Kansas
Eye Color: Hazel
Hair Color: Blonde
Height: 5'4"
Right Handed or Left Handed: Right
Your Heritage: Puerto Rican
The Shoes You Wore Today: DC
Your Weakness: Puppy Eyes
Your Fears: Clowns
Your Perfect Pizza: Cheese
Goal You Would Like To Achieve This Year: Make a new friend. Maybe meet someone special.
Your Most Overused Phrase On an instant messenger: Pity.
Thoughts First Waking Up: What should I write about today?
Your Best Physical Feature: Eyes
Your Bedtime: 1 AM
Your Most Missed Memory: When I was still ignorant about the true nature of the world and people--including family and friends.
Pepsi or Coke: Pepsi
MacDonalds or Burger King: McDonalds
Single or Group Dates: Single, but I wouldn't mind a group date. I'd just like some alone time with my special someone every once in a while. =]
Lipton Ice Tea or Nestea: Lipton Iced Tea
Cappuccino or Coffee: None
Do you Smoke: No.
Do you Swear: Yes.
Do you Sing: Terribly. XD
Do you Shower Daily: Yes, of course! I like taking long bubble baths with candles lit and an avocado and oatmeal mud mask on. XD What can I say? I've become a girly girl over the years.
Have you Been in Love: Yes.
Do you want to go to College: Yes.
Do you want to get Married: Yes.
Do you belive in yourself: Yes.
Do you get Motion Sickness: No.
Do you think you are Attractive: I'd like to think that yes, I am attractive. Despite my heavy figure, I'm confident in my looks and, though I need to take better care of my body, I'm happy with how I look and I feel that if someone was truly interested in ME, they'd find me attractive as well.
Are you a Health Freak: Not really. I know what's good for me and try to avoid what's bad.
Do you get along with your Parents: Sometimes.
Do you like Thunderstorms: YES! I absolutely LOVE to walk in the rain.
Do you play an Instrument: Does recorder count?
In the past month have you Drank Alcohol: No.
In the past month have you Smoked: No.
In the past month have you been on Drugs: Medicine counts?
In the past month have you gone on a Date: No.
In the past month have you gone to a Mall: Yes.
In the past month have you eaten a box of Oreos: No.
In the past month have you eaten Sushi: Yes.
In the past month have you been on Stage: Walking across the stage to get that hard-earned diploma!
In the past month have you been Dumped: No.
In the past month have you gone Skinny Dipping: No.
In the past month have you Stolen Anything: No.
Ever been Drunk: Tipsy.
Ever been called a Tease: Yes, but I don't see how. >.<
Ever been Beaten up: No. I won. XD
Ever Shoplifted: Nope.
How do you want to Die: In my sleep at an old age with the knowledge that I had a good life and a good significant other to match.
What do you want to be when you Grow Up: Nurse (and writer. I love to write.)
What country would you most like to Visit: Japan, please. And Puerto Rico (get back to my roots!)
In a Boy/Girl..
Favourite Eye Color: Doesn't matter.
Favourite Hair Color: Doesn't matter.
Short or Long Hair: Depends on the person.
Height: Taller than me, please.
Weight: This doesn't matter to me. I look inside, not out. Though, if my S.O. was obese to the point of being ill, I'd do something to help.
Best Clothing Style: Casual
Number of Drugs I have taken: None.
Number of CDs I own: Too many to count.
Number of Piercings: Seven; my nose, two on each lobe, and one on the top of each of my ears.
Number of Tattoos: None.
Number of things in my Past I Regret: Why waste time regretting when you can put your best foot forward and live for today to have a better tomorrow?
That's me in a nutshell, lol.